Corporate Workshops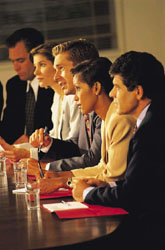 EISW INC

Financial Education Event Program

The following are workshops offered by EISW, Inc... EISW will not host the workshop but will present on your behalf. This information is intended for your use only. Please do not distribute to the public.

Money Management: How to Evaluate Your Cash Flow.
Do you feel like you are living from paycheck to paycheck? In this workshop, you will learn the three types of money (Life Style-Transferred-Accumulated Money) and how to develop cash reserves, strategies for managing money and improving your cash flow.

Investments 101: Five Investment Tools You Need to Know.
Discuss the fundamental rules for successful investing, assessing risk, and evaluating objectives. Basics discussion of stocks, bonds, mutual funds, annuities, and certificates are also included. How to accumulate money in a tax free environment.

Investment Strategies: How to Reach Your Goals.
The key to investing is to avoid tricks. Learn how to develop the right investment strategy for you and basic principles of investing in the market. Find out how your vision and goals affect your approach to investing and ways to help reduce your investment risk. Discuss the emotional element in investing.

Family Legacy: How to Maximize your Legacy.
Maximizing the Legacy you leave your family/charity without using your own money. How to leave your "Mark" and make it count.

Creating the Perfect Investment: Retirement without Risk and Fear
Learn the best places to accumulate wealth without the elements of Risk, Taxes and provides you liquidity use and control of your money without restrictions or penalties.

Refinancing Your Home: Does It Make Sense For You?
When should you consider refinancing? Analysis of cost vs. savings. Should you pay points? A discussion when loan points may be worth paying. A review of terminology and definitions of various financing terms. During the workshop, we will walk participants through their personal situation using a workbook.

Creating Your Retirement Dream: Don't Wait For Retirement, Plan For It.
Your expenses don't stop when you stop working. Create the retirement income you want, by learning ways to recreate your paycheck. Also discuss how to avoid mandatory distributions and options that help reduce taxes, including the Roth IRA.

Planning To Retire: Financial Steps for Today.
Prepare for your life after work. Get tips for reducing taxes and developing the right investment strategy for you. Learn how to make better use of your Social Security benefits and how to protect your retirement assets and income from unexpected events.

Estate Planning: Explore The Options.
You've worked hard to build your estate over the years. Understand fundamental estate planning principles and how they can be used to help you. Find tax advantages for you and your family. Determine if a will is enough. Learn about options for preserving your estate so that your heirs get peace of mind and the legacy intended.

Tax Planning: Stop Giving Your Money to Uncle Sam.
We will review your 1040 and show you formulas for determining your tax liability.
Strategies to minimize taxes and keep more of what you earn. Guest speaker, CPA.

Life Insurance Basics: Buy Only What You Need.
Learn the basics of Term, Whole, and Variable Universal Life Insurance. This workshop will assist you in determining how much life protection you need and how to break down the costs associated with a life insurance policy. Bring your policy so we can evaluate the life insurance you currently have in force.

Annuities: The tax-deferred investment vehicle.
Learn the basics about Fixed, Indexed, and Variable Annuities. Explore how annuities grow tax-deferred and how they guarantee a lifetime of income. A comparison of annuities versus CD's and mutual funds. Understand the pros and cons of these types of investments.

Surviving the Market in Times of Crisis:
This workshop addresses how to prevent political and psychological crises from turning into financial ones. History provides a look on what to expect. Events aren't always predictable but recovery is. Learn how to evaluate your portfolio and look for potential investment opportunities.